BIFI will host the 13th annual user conference of the Spanish Supercomputing Network (RES)
It will take place on 18-19thSeptember, 2019 in El Patio de la Infanta (Fundación Ibercaja), Zaragoza (https://www.res.es/en/events/13th-res-users-conference )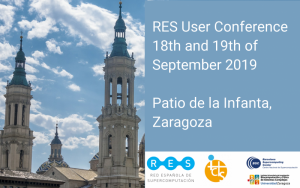 The Spanish Supercomputing Network (RES) organizes every year a user meeting to inform about the RES's news and provide interesting information about access to RES resources and the European ecosystem in HPC. This conference will bring together users, support technicians, access committee and user committee.
This year it will be held in Zaragoza and, for the first time, it will be 2 days. Near 200 supercomputing experts from different disciplines such as astronomy, molecular biology, chemistry and Earth sciences will be present. The proposed program includes plenary sessions and technical and scientific conferences of leading specialists in this area. The program and conference summaries can be found here.
The objective of this event is to encourage an interactive exchange between companies and organizations with the final HPC users. It will address a wide range of disciplines and interests such as Deep Learning, Machine Learning, Exascale Era, Big Data, etc.
For more information, contact David Iñiguez, ARAID Researcher, Head of the BIFI Computing Area.
If you want to know the members of the Spanish Supercomputing Network you can check the website https://www.res.es/es/nodos-de-la-res